The Floor of Heaven: A True Tale of the Last Frontier and the Yukon Gold Rush (Paperback)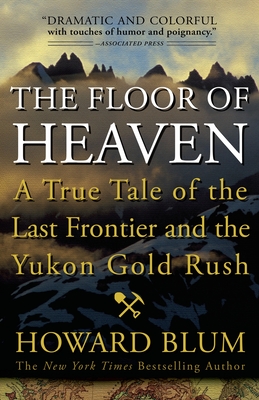 Description
---
New York Times bestselling author Howard Blum expertly weaves together three narratives to tell the true story of the 1897 Klondike Gold Rush.

It is the last decade of the 19th century. The Wild West has been tamed and its fierce, independent and often violent larger-than-life figures--gun-toting wanderers, trappers, prospectors, Indian fighters, cowboys, and lawmen--are now victims of their own success. But then gold is discovered in Alaska and the adjacent Canadian Klondike and a new frontier suddenly looms: an immense unexplored territory filled with frozen waterways, dark spruce forests, and towering mountains capped by glistening layers of snow and ice.

In a true-life tale that rivets from the first page, we meet Charlie Siringo, a top-hand sharp-shooting cowboy who becomes one of the Pinkerton Detective Agency's shrewdest; George Carmack, a California-born American Marine who's adopted by an Indian tribe, raises a family with a Taglish squaw, and makes the discovery that starts off the Yukon Gold Rush; and Jefferson "Soapy" Smith, a sly and inventive conman who rules a vast criminal empire.

As we follow this trio's lives, we're led inexorably into a perplexing mystery: a fortune in gold bars has somehow been stolen from the fortress-like Treadwell Mine in Juneau, Alaska. Charlie Siringo discovers that to run the thieves to ground, he must embark on a rugged cross-territory odyssey that will lead him across frigid waters and through a frozen wilderness to face down "Soapy" Smith and his gang of 300 cutthroats. Hanging in the balance: George Carmack's fortune in gold.

At once a compelling true-life mystery and an unforgettable portrait of a time in America's history, The Floor of Heaven is also an exhilarating tribute to the courage and undaunted spirit of the men and women who helped shape America.
About the Author
---
HOWARD BLUM is the author of the New York Times bestseller and Edgar Award winner American Lightning, as well as such bestsellers as Wanted!, The Gold Exodus, and Gangland. He is currently a contributing editor at Vanity Fair. While at the New York Times, he was twice nominated for a Pulitzer Prize for investigative reporting.
Praise For…
---
"Dramatic and colorful with touches of humor and poignancy, The Floor of Heaven has the spark of a television miniseries and the depth of a novel.  That Blum's tale of adventure is tall but true makes it all the more enjoyable, particularly because its heartbeat is so keenly American."
–Associated Press

"Highly enjoyable…a narrative history set before, during and just after the [Yukon gold] rush.  Blum traces the lives of three storied men – a prospector, a cowboy turned Pinkerton detective and a notorious conman – whose fates intersected over a stash of gold...It must have been a daunting task wrangling all these conflicting stories into a single, seamless tale, but you never feel that effort on a single page of this unabashedly entertaining book."
–Salon
 
"True Grit meets Call of the Wild.  That's the skinny on Howard Blum's Floor of Heaven, a big sprawling book that pairs colorful cowboys and ornery thieves with noble Indians and the kinds of hardworking prospectors found in Jack London's tales of the Yukon…Blum's characters have undeniable folksy charm and 'grit'…and it doesn't take much effort to imagine them in a movie.  The Floor of Heaven has the benchmarks of a bestseller."
–San Francisco Chronicle
 
"There is no doubt that all three of Mr. Blum's main subjects led fascinating lives…Mr. Blum skillfully intercuts [his story's] plotlines, building momentum toward his big finish…entertaining."
–Wall Street Journal
 
"Packed with larger-than-life characters straight out of a John Ford western…a rich tale…entertaining."
–American Heritage

"Full of suspense…an amazing real-life adventure story, peopled with characters that any novelist would be proud to have invented: first-rate entertainment.
–Michael Korda, New York Times bestselling author of HERO, WITH WINGS LIKE EAGLES and IKE

"In the tradition of great history as great literature…highly recommended…readers will be richly rewarded by Blum's masterful use of a colorful cast of genuine historical characters set in the majestic northwestern wilderness."  –Library Journal (Starred Review)

"Wildly compelling...a truly memorable frontier tale."
–Kirkus

"A fascinating story…Detailing crimes perpetrated and solved, relationships both happy and tragic, hardships unthinkable in the modern age, and the cold, magical allure of Alaska and the Yukon, Blum captures the spirit and mood of the last of the Old West. The final pages, especially, are filled with drama and a strange yearning…a huge success."
–Publishers Weekly (Starred Review)

"A tense, exciting tale filled with colorful characters." –Booklist

"Wonderfully original. This narrative about the Alaskan gold rush has everything but Charlie Chaplin. Resurrecting three of the giant figures of the time -- a cowboy detective, a genius con artist and the luckiest bastard in the Yukon -- Blum laces together a grand string of adventures (all the more impressive for being true) that take us deep into the glory hole and the transforming power of greed."
–Pope Brock, New York Times bestselling author of Charlatan

"Brings to life the frenzy of the Yukon Gold Rush that opened Alaska, bringing with it fabulous wealth for a few, the violent lawlessness of the lower Wild West, and a breed of charlatan that fiction could not invent.  From a virtual mother lode of unmined material, Blum casts a narrative that both informs and entertains as he forges the image of the wild days of the last American frontier."
–William C. Davis, author of the Pulitzer-nominated Battle of Bull Run and also Three Roads to the Alamo and Lone Star Rising
 
"Howard Blum has taken a whole handful of good yarns, and has woven them into a tapestry of  adventure, cattle drives, manhunts, bonanzas, greed, gunslinging, saloon brawls and heists, and of schemers and dreamers who became legends in their time. A novelist could hardly make up such characters, but these were real men. Blum has worked as hard as a sourdough prospector to mine their memoirs, letters and scrapbooks, to trace their interwoven biographies and write a vivid, amazingly plotted narrative that's like spun gold."
–James Alexander Thom, author of the national bestseller Follow the River and From Sea to Shining Sea
 
"Hold on to your seats! Howard Blum has thrown us a thunderbolt of a tale about three adventurers scrambling to experience the untamed life on the American frontier before it vanishes. The Floor of Heaven is a full-gallop epic of fortune-seeking and betrayal that leaves you pondering the high price we pay for both domesticity and freedom."
–Scott Zesch, author of The Captured
 
"The Floor of Heaven will make a great movie--that goes without saying, since it's by master storyteller Howard Blum. But it's more than that: the best kind of reading experience, where the reader is transported to another time and place and is soon caught up in a glorious adventure.  It's the spellbinding tale of three fascinating characters--a lawman, a con man, and a prospector--set against the background of one of the most alluring eras in American history, the Yukon Gold Rush. This is a great, untold story of daring men involved in a dangerous and exciting enterprise: the taming of a lawless land."
–Jim Donovan, author of Custer and the Little Bighorn