Not One Inch: America, Russia, and the Making of Post-Cold War Stalemate (Hardcover)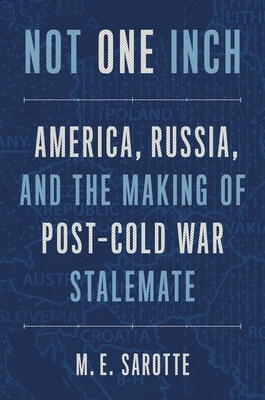 $35.00

Available in our warehouse. Ships in 2 - 3 Days
Description
---
A leading expert on foreign policy reveals how tensions between America, NATO, and Russia transformed geopolitics in a Foreign Affairs Best Book of 2021
 
"Sarotte has the receipts, as it were: her authoritative tale draws on thousands of memos, letters, briefs, and other once secret documents—including many that have never been published before—which both fill in and complicate settled narratives on both sides."—Joshua Yaffa, New Yorker
 
"The most engaging and carefully documented account of this period in East-West diplomacy currently available."—Andrew Moravcsik, Foreign Affairs
 
Prize-winning historian, M.E. Sarotte pulls back the curtain on the crucial decade between the fall of the Berlin Wall and the rise of Vladimir Putin, when Americans and Russians—in conflict over NATO expansion and Europe's future—sowed the seeds of the tensions that shape today's world.
About the Author
---
M. E. Sarotte is the Kravis Professor of Historical Studies at Johns Hopkins School of Advanced International Studies, a member of the Council on Foreign Relations, and the author, among other books, of The Collapse: The Accidental Opening of the Berlin Wall.
Praise For…
---
"Sarotte has the receipts, as it were: her authoritative tale draws on thousands of memos, letters, briefs, and other once secret documents—including many that have never been published before—which both fill in and complicate settled narratives on both sides."—Joshua Yaffa, New Yorker

"Prize-winning historian Mary Elise Sarotte . . . charts all the private discussions within the western alliance and with Russia over enlargement and reveals Russia as powerless to slow the ratchet effect of the opening of Nato's door."—Patrick Wintour, The Guardian

"Sarotte is the unofficial dean of 'end of Cold War' studies. . . . With her latest book, she tackles head-on the not-controversial-at-all questions about NATO's eastward growth and the effect it had on Russia's relations with the west. I look forward to the contretemps this book will inevitably produce."—Daniel W. Drezner, Washington Post

"'Not one inch to the east' . . . [is] a history so often repeated that it's practically conventional wisdom. Mary Sarotte . . . [describes] what actually happened [between the US and Russia], and how both the reality and distortion really shape today's events."—Max Fisher, New York Times, from "The Interpreter" newsletter

"A riveting account of Nato enlargement and its contribution to the present confrontation. Sarotte tells the story with great narrative and analytical flair, admirable objectivity, and an attention to detail that many of us who thought we knew the history have forgotten or never knew."—Rodric Braithwaite, Financial Times

"Masterful and exhaustively researched . . . For this well-written and pacy book, [Sarotte] has uncovered previously unpublished details of former president Bill Clinton's role in deciding Europe's fate."—Con Coughlin, Sunday Telegraph

"Highly detailed, thoroughly researched, and briskly written."—Fred Kaplan, New York Review of Books

"There's no one who has researched the relevant sources more thoroughly than historian Mary E. Sarotte, who has just published Not One Inch . . . successfully reconstructing the most significant days [in NATO expansion]."—Stefan Kornelius, Süddeutsche Zeitung

"Sarotte weaves together the most engaging and carefully documented account of this period in East-West diplomacy currently available."—Andrew Moravcsik, Foreign Affairs

Selected as a Foreign Affairs Best Book of 2021

"A tour de force of research and analysis."—Richard Aldous, host of American Purpose's "Bookstack" podcast

"A must-read for anyone interested in U.S.-Russian relations or the study of U.S. foreign policy since 1991."—Emma Ashford, War on the Rocks

"[A] gracefully written history . . . the most authoritative account of this historical episode that is ever likely to be written."—Michael Mandelbaum, American Purpose

"An important book."—Jacob Heilbrunn, National Interest

"[A] complex and rich look at the arguments underpinning Russia's present concern about NATO."—Diplomatic Courier

"A riveting account of fateful choices to expand NATO and their consequences for relations with Russia today."—Graham Allison, author of Destined for War: Can America and China Escape Thucydides's Trap?

"Sarotte deftly unpacks one of the most important strategic moves of the post–Cold War Era: the decision to enlarge NATO. Her detailed history of the 1990s is groundbreaking, and her assessment of the impacts of NATO expansion on European security is balanced and nuanced. A major accomplishment and a must-read."—Charles A. Kupchan, Georgetown University and the Council on Foreign Relations

"Not One Inch will be considered the best-documented and best-argued history of the NATO expansion during the crucial 1989–1999 period."—Norman Naimark, author of Stalin and the Fate of Europe: The Postwar Struggle for Sovereignty
 

"Sarotte explores how and why NATO expanded and relations with Russia deteriorated in the post–Cold War world. It is an important book, well documented and told."—Joseph Nye Jr., author of Do Morals Matter? Presidents and Foreign Policy from FDR to Trump 

"Mary Sarotte's insightful story of NATO's enlargement in the 1990s will be the foundation for debates about lessons among policy-makers as well as a fascinating read for people interested in recent history."—Robert B. Zoellick, US negotiator for German unification and author of America in the World: A History of U.S. Diplomacy and Foreign Policy