The River of the Mother of God: and other Essays by Aldo Leopold (Paperback)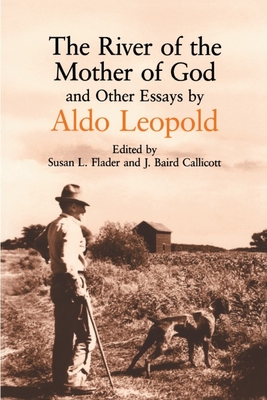 Staff Reviews
---
Word of Mouth Book Club selection, May 2021, Redbery Books, Cable, WI.
— From
Word of Mouth
Description
---
His name is inextricably linked with a single work, A Sand County Almanac, a classic of natural history literature and the conservationist's bible. This book brings together the best of Leopold's essays.
About the Author
---
Aldo Leopold was Professor of Wildlife Management at the University of Wisconsin.  Susan L. Flader is Professor of History at the University of Missouri, Columbia.  J. Baird Callicott is Professor of Philosophy at the University of Wisconsin–Stevens Point.
Praise For…
---
"Aldo Leopold was a rare and wonderful combination of prophet, professor, civil servant, and muddy-boot lover of the land.  Like Henry David Thoreau and John Muir, his heart was in the forest and the field, and his best-known work, A Sand County Almanac, has rightly been compared in soul and spirit to their writings.  But unlike Thoreau and Muir, Leopold also spent a lifetime in the suit-and-tie world of government and academia.  He led the way in propelling the United States conservation movement from garden and shooting clubs to government agencies and legislatures, and was perhaps the first person to fully perceive the importance of a new scientific discipline—ecology—that half a century later would have profound political impact.  .  .  .  Now, two Leopold experts have gathered together 59 essays to show the breadth and depth of his thinking and above all his intellectual development.  .  .  .  Flader and Callicott have done an excellent job of giving public voice to a pioneer environmentalist."—Brad Knickerbocker, Christian Science Monitor


 "A fascinating intellectual history.  .  .  .  This book, which includes a helpful chronology of Leopold's life and a fine introduction written by the editors, makes it clear that Leopold was deeply involved in virtually all the land-use and environmental issues of his day, and that he outlined most of the arguments conservationists are still making—and still losing."—Bill McKibben,  New York Times Book Review


 "Readers have a new opportunity to look upon the intellectual development of this Midwestern-born scholar known as 'the father of wildlife management.'  .  .  .  Passionate and thought-provoking."—Bill  Nelson, Milwaukee Journal

 "Reading these essays is as fascinating as watching a great tree growing."—American Forests