Where Honeybees Thrive: Stories from the Field (Animalibus #10) (Paperback)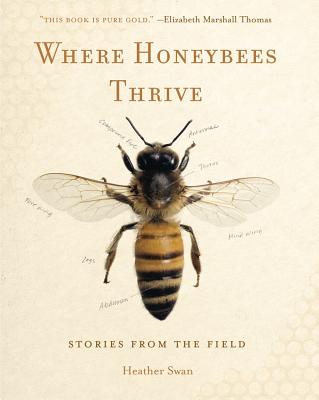 $29.95

Available for special order
Staff Reviews
---
Men's Discussion Group selection, October 2018, Redbery Books, Cable, WI.
— From
Men's Discussion Group
Description
---
Colony Collapse Disorder, ubiquitous pesticide use, industrial agriculture, habitat reduction--these are just a few of the issues causing unprecedented trauma in honeybee populations worldwide. In this artfully illustrated book, Heather Swan embarks on a narrative voyage to discover solutions to--and understand the sources of--the plight of honeybees.
Through a lyrical combination of creative nonfiction and visual imagery, Where Honeybees Thrive tells the stories of the beekeepers, farmers, artists, entomologists, ecologists, and other advocates working to stem the damage and reverse course for this critical pollinator. Using her own quest for understanding as a starting point, Swan highlights the innovative projects and strategies these groups employ. Her mosaic approach to engaging with the environment not only reveals the incredibly complex political ecology in which bees live--which includes human and nonhuman actors alike--but also suggests ways of comprehending and tackling a host of other conflicts between postindustrial society and the natural world. Each chapter closes with an illustrative full-color gallery of bee-related artwork.
A luminous journey from the worlds of honey producers, urban farmers, and mead makers of the United States to those of beekeepers of Sichuan, China, and researchers in southern Africa, Where Honeybees Thrive traces the global web of efforts to secure a sustainable future for honeybees--and ourselves.
About the Author
---
Heather Swan is a lecturer at the University of Wisconsin-Madison, where she teaches environmental literature and writing. She is also a beekeeper.