Marvelous: A Novel of Wonder and Romance in the French Royal Court (Paperback)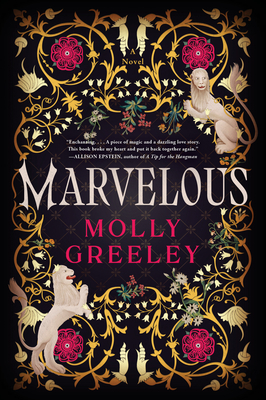 $19.99

Coming Soon - Available for Pre-Order Now
Description
---
"Enchanting. Molly Greeley has pulled off a piece of magic to tell a dazzling love story about the outcast's ache to be cared for and belong. This book broke my heart and put it back together again."--Allison Epstein, author of A Tip for the Hangman
A mesmerizing novel set in the French royal court of Catherine de' Medici during the Renaissance, which recreates the touching and surprising true story behind the Beauty and the Beast legend, from the acclaimed author of The Clergyman's Wife and The Heiress. 
1547: Pedro Gonzales, a young boy living on the island of Tenerife, understands that he is different from the other children in his village. He is mercilessly ridiculed for the hair covering his body from head to toe. When he is kidnapped off the beach near his home, he finds himself delivered by a slave broker into the dangerous and glamorous world of France's royal court. There "Monsieur Sauvage," as he is known, learns French, literature, and sword fighting, becoming an attendant to the French King Henri II and a particular favorite of his queen, the formidable Catherine de' Medici. Queen Catherine considers herself a collector of unusual people and is fascinated by Pedro…and determined to find him a bride.
Catherine Raffelin is a beautiful seventeen-year-old girl whose merchant father has fallen on hard times and offers up his daughter to Queen Catherine. The queen will pay his debts, and his daughter will marry Monsieur Sauvage.
Catherine meets Pedro for the first time on their wedding day. Barely recovered from the shock of her father's betrayal, she soon finds herself christened "Madame Sauvage" by the royal courtiers, and must learn to navigate this strange new world, and the unusual man who is now her husband.
Gorgeously written, heartbreaking and hopeful, Marvelous is the portrait of a marriage, the story of a remarkable, resilient family, and an unforgettable reimagining of one of the world's most beloved fairy tales.  
"A richly detailed and imaginative novel. Readers will relish Greeley's emotionally potent tale."--Booklist
About the Author
---
Molly Greeley is the author of the acclaimed historical novels The Heiress and The Clergyman's Wife. A graduate of Michigan State University, she lives with her husband and three children in Traverse City, Michigan.
Praise For…
---
"One of the most moving novels I've read in years, Marvelous is an extraordinary portrait of the extraordinary marriage that inspired Beauty and the Beast. Rich in compassion, wonder, and intimacy, Molly Greeley's latest will break your heart open in the best possible way, proof that the best fairy tales are woven from the mysteries of human experience. Simply superb." — Kris Waldherr, author of Unnatural Creatures and The Lost History of Dreams
"Marvelous will tear at your heart, especially knowing how historically accurate it is in many instances. Pedro and Catherine were real people with real issues and the author does a beautiful job presenting this to her readers. Marvelous is an amazing book." — Romance Reviews Today
"A richly detailed and imaginative novel. Readers will relish Greeley's emotionally potent tale." — Booklist
"Greeley's storytelling is intricate, masterly, and delightfully imaginative. Highly recommended." — Library Journal (starred review) on The Heiress
"Pride and Prejudice retellings abound, but none are quite like Molly Greeley's." — Oprahmag.com on The Heiress
"Greeley is faithful to the original story, while creating an imaginative and vivid inner life for the beleaguered Anne. This inventive novel will delight Pride and Prejudice fans, and win over readers who are skeptical of Austen reimaginings." — Booklist (starred review) on The Heiress
"Enchanting. Molly Greeley has pulled off a piece of magic, traversing the 16th-century courts of Paris and Rome to tell a dazzling love story about the outcast's ache to be cared for and belong. This book broke my heart and put it back together again." — Allison Epstein, author of A Tip for the Hangman
"Greeley debuts with a delightful yet poignant historical inspired by Jane Austen's classic Pride and Prejudice, from the pragmatic point of view of Charlotte Collins, a friend of Elizabeth Bennet's who married one of Elizabeth's cast-off suitors. With tight prose and expert characterization, Greeley easily draws readers into the world she's created while largely staying true to Pride and Prejudice's original plot. Ideal for fans of Austen's work, Greeley's strong debut also stands on its own." — Publishers Weekly on The Clergyman's Wife
"There's a hint of D. H. Lawrence in this nuanced, cleverly plotted Pride and Prejudice spin-off. Greeley builds Charlotte's world artfully…You needn't be an Austen fan to relish Greeley's spirited first novel." — BBC on The Clergyman's Wife