The Oracle of Maracoor: A Novel (Another Day #2) (Paperback)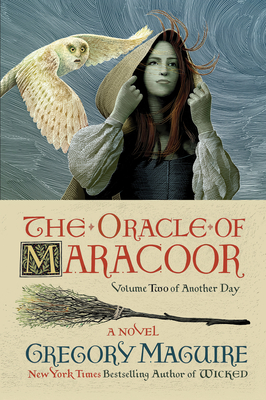 $18.99

Available in our warehouse. Ships in 2 - 3 Days
Description
---
Multimillion-copy bestselling author Gregory Maguire brings us the enchanting second novel in the series Another Day, returning to the world he first created in Wicked.
The Oracle of Maracoor, the second in the trilogy called Another Day, continues the story of Elphaba's green-skinned granddaughter, Rain. That strange land, Maracoor—across the ocean from Oz—is beset by an invading army. In the mayhem, Rain and Cossy, a child felon, break out of prison. Helped by a few flying monkeys, they struggle to escape the city before it falls under siege. Their arresting officer, Lucikles, also retreats with his family to a highland redoubt. But safety eludes them all. Chaos thunders upon them in the form of warriors, refugees, and brigands. The very fabric of reality loosens, liberating creatures of myth and legend—huge blue wolves, harpies, and giants made of the very landscape. 
Cued in by secrets known only to the most highly placed members of the royal court, Rain and her companions hunt the fabled Oracle of Maracoor for guidance and soothsaying. Rain has to recover her forgotten past if she is to consider returning home. Cossy, the ten-year-old convicted of murder, must become invisible to avoid being taken into custody again. Meanwhile, the Fist of Mara, an arcane artifact that renders all around it barren, hammers against human lives. If the reclusive Oracle should spin a prophecy, might the desperate wicked years promise another day, one less perilous? 
About the Author
---
Gregory Maguire is the New York Times bestselling author of the Wicked Years, a series that includes Wicked—the beloved classic that is the basis for the blockbuster Tony Award–winning Broadway musical of the same name—Son of a Witch, A Lion Among Men, and Out of Oz. His other adult works include the Another Day series; A Wild Winter Swan; Hiddensee; After Alice; Confessions of an Ugly Stepsister; Lost; Mirror Mirror; and. He lives with his family in New England.
Praise For…
---
"Rain's story—begun in The Brides of Maracoor and finished, last month, in The Witch of Maracoor—felt like a gift. . . . The series is odd and dreamy, amnesiac and inventive, and full of what Maguire calls ephrarxis, which he defines as 'nostalgia for something that had never been.'" — Tor.com
"Gregory Maguire once again has created an awe-inspiring work of fantasy that takes on the Oz stories and improves on them through expansion of new characters, places and ideas. It all makes for an engaging read and welcome time spent in a place that feels simultaneously strange and eerily familiar." — BookReporter on The Oracle of Maracoor
"A decade after she flew Out of Oz in Maguire's Wicked series, Elphaba's granddaughter crash-lands on an island inhabited by seven sacrificial virgins. The arrival of the green-skinned teen (and her talking goose) upends their enclave. An exquisitely crafted introduction to a new fantasy trilogy." — People on The Brides of Maracoor
"Fans will look forward to reading more about the interaction of Oz, Rain and the strange society of Maracoor." — Wall Street Journal on The Brides of Maracoor
"Wonderful attention to detail. . . . [Maguire] does excellent character work. . . . The larger world of Maracoor Abiding . . . has echoes of Greek mythology and looks to be fertile ground as a setting for more books. An expertly crafted introduction to a new series of magic and adventure." — Kirkus Reviews (starred review) on The Brides of Maracoor
"The Brides of Maracoor once again shows Maguire's rich, mesmerizing world building, full of small, frustrating human absurdities. . . . It also shows off his gift for crafting compelling characters. . . . It's an intriguing, witty start to a fantastical proposed trilogy." — Booklist
"With its rich character development and a healthy dash of Maguire's humor, this latest Oz tale is as satisfying a read as the Wicked Years quartet." — Buzzfeed on The Brides of Maracoor
"[A] complex, enticing fantasy. . . . Maguire cleverly teases out the characters' motivation and desires, turning what at first appears to be a straightforward tale into a gripping page-turner. Fans will revel in this triumphant return to the world of Wicked." — Publishers Weekly on The Brides of Maracoor