The Curiosity: A Novel (Hardcover)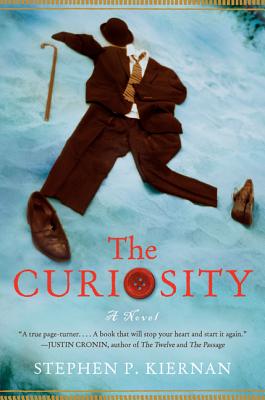 Staff Reviews
---
The Curiosity will go down as one of my favorite books of 2013.
Dr. Kate Philo is a scientist with an exploration team in the Artic. They are searching for frozen creatures to bring back to life using reanimation. The team has had success with much lower life forms. Now, Dr. Philo and her team uncover a man frozen in ice. He's clearly not from this century. The project is headed by Erastus Carthage who, it must be said, is one of the more horrible humans to have lived in literature. He wants to "bring Subject One back to life." He never once thinks about the frozen man as anything but "Subject One" and how he must reanimate Subject One to get the recognition Carthage is certain he deserves. Because Carthage is egotistical, he must have an audience, hence, he has employed a carefully selected journalist – who doesn't think too much past how Dr. Philo looks in a wetsuit and how he's going to have the best coverage of whatever is going to happen. You guessed it: he thinks he deserves it too.

Subject One is Jeremiah Rice, a former judge and explorer, born in the 1800s and obviously frozen during an expedition when he fell overboard. There is much to admire about Rice as we learn more about him through the eyes of the other characters as well as the judge himself. A humble man, he lived a simple life until he decided to go on the expedition.

Kate watches Rice emerge and has a difficult time separating the scientist inside herself from the compassionate woman she is. She falls from Carthage's grace and is relegated to the nightshift, but it is while on the nightshift, Kate observes more than a man coming back to life with the aid of science.

We meet scientists who are brilliant, but decidedly odd, wacky and just plain out there. Some befriend Kate and Jeremiah while others think only of the project. There are religious fanatics determined to stop the Lazarus Project at all costs. Who will you side with? What would you do?

Savor this novel a good, long time. - Wendy, Redbery Books, Cable, Wisconsin
— From
Wendy's Easy Chair 3
July 2013 Indie Next List
---
"I've been thinking about Jeremiah Rice a lot since finishing The Curiosity. In this novel a group of scientists have been reanimating small creatures frozen deep in Arctic ice. Upon discovering a man in the ice, Mr. Rice, they bring him back to their lab and try to reanimate him. Imagine a man from 1906 waking up in the world today. Imagine the scientists who stand to make a lot of money and fame for themselves off of such a man. Imagine also the scientists with a moral compass who try to figure out what is best and right in such a situation. I didn't want to put it down and I keep wondering what Jeremiah Rice might think about the way the world has become both good and not so good."
— Diane Grenkow, The Galaxy Bookshop, Hardwick, VT
Description
---
The Curiosity, Stephen Kiernan's debut novel, is a gripping, poignant, and thoroughly original thriller that raises disturbing questions about the very nature of life and humanity—man as a scientific subject, as a tabloid plaything, as a living being, as a curiosity.…
 
Dr. Kate Philo and her scientific exploration team make a breathtaking discovery in the Arctic: the body of a man buried deep in the ice. Remarkably, the frozen man is brought back to the lab and successfully reanimated. As the man begins to regain his memories, the team learns that he was—is—a judge, Jeremiah Rice, and the last thing he remembers is falling overboard into the Arctic Ocean in 1906.
 
Thrown together by circumstances beyond their control, Kate and Jeremiah grow closer. But the clock is ticking and Jeremiah's new life is slipping away...and all too soon, Kate must decide how far she is willing to go to protect the man she has come to love.
About the Author
---
Stephen P. Kiernan has won numerous awards, including the Brechner Center's Freedom of Information Award, the Scripps Howard Award for Distinguished Service to the First Amendment, and the George Polk Award. He is the author of two previous novels, The Curiosity and The Hummingbird, and two nonfiction books. He lives in Vermont with his two sons.
Praise For…
---
"Summer is dominated with thrilling books, but if you prefer yours more measured, more touching and decidedly more thought-provoking, this one may satisfy your curiosity."
— Minneapolis Star Tribune on THE CURIOSITY

"I absolutely loved THE CURIOSITY. It's as thought-provoking and powerful as FLOWERS FOR ALGERNON and the writing is breathtakingly beautiful. And that ending? Poignant, luminescent, and absolutely perfect."
— Chris Bohjalian, bestselling author of The Light in the Ruins and Midwives

"[A] smart, heady, and irresistible science thriller...Kiernan gets every element right in this breakneck, entertaining, and thought-provoking tale about time, mortality, the ethics of science, and the meaning of life."
— Booklist (starred review)

"Stephen P. Kiernan's The Curiosity is a true page-turner, mixing cutting edge science with an all-too-human love story, while simultaneously taking on the Big Questions. It's one of the most assured debuts in years, a book that will stop your heart and start it again."
— --Justin Cronin, bestselling author of The Passage

""[A]mbitious . . . an emotionally satisfying and brisk narrative . . . [T]his is a gripping novel with a clever conceit."
— Publishers Weekly on THE CURIOSITY

"[A] smart, heady, and irresistable science thriller....Kiernan gets every element right in teh breakneck, entertaining and thought-provoking taleabout time, mortality, the ethics of science, and the meaning of life."
— Booklist (starred review) on THE CURIOSITY

"Stephen P. Kiernan's novel is a marvelous blend of sci-fi, romance, and the tug-of-war between science and ethics."
— Parade on THE CURIOSITY

"[THE CURIOSITY] poses provocative questions about life and humanity."
— Entertainment Weekly on THE CURIOSITY