The Space Between Us: A Novel (Harper Perennial Deluxe Editions) (Paperback)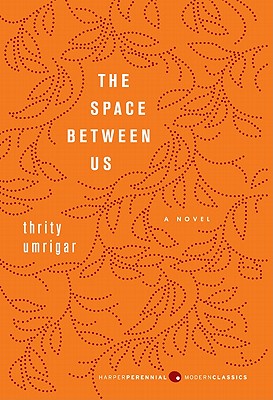 $20.00

Available in our warehouse. Ships in 2 - 3 Days
Staff Reviews
---
-- Word of Mouth Book Club selection, September 2016, Redbery Books, Cable, Wisconsin
— From
Word of Mouth
T.H.U.R.S. Book Club selection, July 2021, Redbery Books, Cable, WI.
— From
T.H.U.R.S. Book Club
Description
---
"This is a story intimately and compassionately told against the sensuous background of everyday life in Bombay." —Washington Post Book World
"Bracingly honest." —New York Times Book Review
A beautifully designed Harper Perennial Deluxe Edition of Thrity Umrigar's critically acclaimed and bestselling novel—a luminous, unforgettable story of honor, tradition, class, gender, and family set in modern-day India.
The Space Between Us is the story of two compelling and achingly real women: Sera Dubash, an upper-middle-class Parsi housewife whose opulent surroundings hide the shame and disappointment of her abusive marriage, and Bhima, a stoic illiterate hardened by a life of despair and loss, who has worked in the Dubash household for more than twenty years. A powerful and perceptive literary masterwork, Umrigar's extraordinary novel demonstrates how the lives of the rich and poor are intrinsically connected yet vastly removed from each other, and how the strong bonds of womanhood are eternally opposed by the divisions of class and culture. It is a story that echoes the timeless intensity of Zora Neale Hurston's Their Eyes Were Watching God, Betty Smith's A Tree Grows in Brooklyn, and Barbara Kingsolver's The Poisonwood Bible—a quintessential triumph of modern literary fiction.
About the Author
---
Thrity Umrigar is the author of seven novels Everybody's Son, The Story Hour, The World We Found, The Weight of Heaven, The Space Between Us, If Today Be Sweet, and Bombay Time; a memoir, First Darling of the Morning; and a children's picture book, When I Carried You in My Belly. A former journalist, she was awarded a Nieman Fellowship to Harvard and was a finalist for the PEN Beyond Margins Award. A professor of English at Case Western Reserve University, she lives in Cleveland, Ohio.
Praise For…
---
"Umrigar is a perceptive and often piercing writer.... Her portrait of Sera as a woman unable to transcend her middle-class skin feels bracingly honest." — New York Times Book Review
"[The Space Between Us] is a great book; I love it.... I couldn't stop reading until Bhima had her amazing epiphany of freedom at the edge of the sea. I am so happy for Thrity Umrigar! And proud of her as a woman, too.... It is so precious to have a book about a woman one rarely even "sees" in society, whether Indian or American." — Alice Walker on THE SPACE BETWEEN US
"Remarkable.... What makes The Space Between Us so engrossing is its ability to make readers feel empathy for its subjects.... To read Umrigar's novel is to catch a glimpse of a foreign culture, for better and for worse. Yet while the class divide between Bhima and Sera provides much of the conflict in The Space Between Us, it isn't the only source of disagreement. Class colors everything, but in the end, Umrigar shows, every one of life's ups and downs are available to us all." — San Francisco Chronicle
"Thrity Umrigar has created two wonderfully sympathetic characters who do much to make [India's] complex nature comprehensible.... This is a story intimately and compassionately told against the sensuous background of everyday life in Bombay.... The life of the privileged is harshly measured against the life of the powerless, but empathy and compassion are evoked by both strong women, each of whom is forced to make a separate choice. Umrigar is a skilled storyteller, and her memorable characters will live on for a long time." — Frances Itani, Washington Post Book World
"With humanity and suspense, novelist Thrity Umrigar tackles love, loyalty, injustice - and survival." — Marie Claire
"Umrigar renders a collection of compelling and complex characters, from kind, conflicted Sera to fiercely devoted Bhima. Sadness suffuses this eloquent tale, whose heart-stopping plot twists reveal the ferocity of fate." — Booklist (starred review)
"Set in contemporary Bombay, Umrigar's second novel is an affecting portrait of a woman and her maid, whose lives, despite class disparity, are equally heartbreaking.... A subtle, elegant analysis of class and power. Umrigar transcends the specifics of two Bombay women and creates a novel that quietly roars against tyranny." — Kirkus Reviews
"Poignant." — Entertainment Weekly
"Umrigar's schematic novel illustrates the intimacy, and the irreconcilable class divide, between two women in contemporary Bombay.... Umrigar's writing achieves clarity." — Publishers Weekly
"From page one, Thrity Umrigar's novel thrusts us into a story that's at once heartbreaking and soothing. Chronicling the tumultuous lives of two women, The Space Between Us doesn't flinch from its scrutiny of human suffering; then it gently, gently guides us toward healing." — Samrat Upadhyay, author of The Royal Ghosts
"A deeply affecting novel about a wealthy widow and her maid, who form a bond across the gulfs of class and status in modern-day Bombay." — Life magazine
"Sadness suffuses this eloquent tale, whose heart-stopping plot twists reveal the ferocity of fate." — Booklist (starred review)
"Heartbreaking.... A subtle, elegant analysis of class and power... that quietly roars against tyranny." — Kirkus Reviews
"Intimately and compassionately told.... Sensuous.... Umrigar's memorable characters will live on for a long time." — Frances Itani, Washington Post Book World
"Umrigar is a perceptive and often piercing writer." — New York Times Book Review
"[The Space Between Us] is provocative and disturbing." — Boston Globe
"Umrigar is a highly skilled storyteller...the novel's plot and depth of characterisation provide irresistible momentum." — Time Out New York
"Umrigar's imagery, gorgeous yet unflinching in its realism, creates a rich picture of Indian society in Bombay, from slum to skyscraper. Her symbolism is lovely." — Charlotte Observer
"The Space Between Us is a novel that is hard to forget." — The Times (London)