The Secret Life of Lobsters: How Fishermen and Scientists Are Unraveling the Mysteries of Our Favorite Crustacean (Hardcover)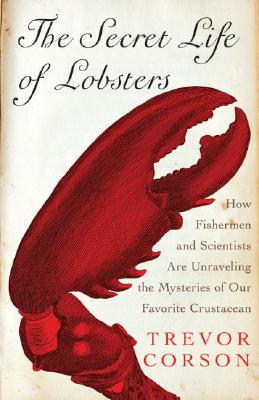 Description
---
In this intimate portrait of an island lobstering community and an eccentric band of renegade biologists, journalist Trevor Corson escorts the reader onto the slippery decks of fishing boats, through danger-filled scuba dives, and deep into the churning currents of the Gulf of Maine to learn about the secret undersea lives of lobsters.
In revelations from the laboratory and the sea that are by turns astonishing and humorous, the lobster proves itself to be not only a delicious meal and a sustainable resource but also an amorous master of the boudoir, a lethal boxer, and a snoopy socializer with a nose that lets it track prey and paramour alike with the skill of a bloodhound.
The Secret Life of Lobsters is a rollicking oceanic odyssey punctuated by salt spray, melted butter, and predators lurking in the murky depths.
About the Author
---
The author of The Secret Life of Lobsters, Trevor Corson has studied philosophy in China, resided in Buddhist temples in Japan, and worked on commercial fishing boats off the Maine coast. He has written for the Atlantic Monthly and the New York Times and is the only "sushi concierge" in the United States. He lives in New York City.
Praise For…
---
"Charmingly written, full of fascinating detail: a delight."
— Kirkus Reviews

"Ultimately, this investigation into society, science and sustainability leaves a complex, satisfying taste in your mouth"
— Time Out New York

"I can highly recommend this book as one of the best things you can enjoy without melted butter."
— Natural History magazine