Have Glove, Will Travel: Adventures of a Baseball Vagabond (Paperback)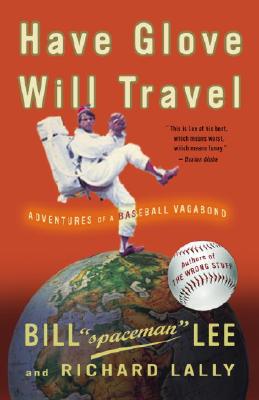 Description
---
It was 1982 when Bill Lee was famously booted from the Montreal Expos after he went AWOL in protest of another player's mistreatment by management. His reputation for antics both on and off the field guaranteed that no other club would pick him up. The Ace from Space had landed on professional baseball's blacklist, and so it was that one of the most popular major-league pitchers of our day was fated to pack his bags and wander the globe searching for a ball game.
"Have Glove, Will Travel" is the chronicle of an amazing odyssey that began more than twenty years ago and continues today. Unable to live without baseball, Lee went anywhere he could find a game, beginning in the dank and dreary locker room of a Canadian hockey team that later became a softball team. We follow him around the world as he competes in pickup games, town tournaments, senior leagues, and fantasy camps, barnstorming like a modern Satchel Paige around the United States, South America, China, Cuba, Russia, and every province in Canada.
At the heart of this story are the rollicking, colorful characters Lee meets during his travels, and the mishaps that befall him whether he's sober or stoned. There's the eccentric Latin pitching master Lee plays with in Cuba, who once struck out Ernest Hemingway. And a hilarious story that takes place in the backwoods of a British Columbia timber town, where Lee and Hall-of-Famer Ferguson Jenkins go fishing and end up being chased back to their pickup truck by a 450-pound black bear.
"Have Glove, Will Travel" is so much more than the average baseball book. Lee's humor, keen eye for detail, and extraordinary pitching intellect are always on display, but in the end this book is a love story about a middle-aged maverick who refused to stop pursuing his passion for a boy's game long after the grown-ups told him he couldn t play on their team anymore. Readers who loved Lee's bestselling "The Wrong Stuff," also written with Richard Lally, will find the long wait for this rich and wonderful sequel well worth it. Those who haven t yet encountered the literary Bill Lee have a great treat in store.
"From the Hardcover edition.
About the Author
---
Bill Lee is a pitcher and remains so. Richard Lally coauthored "The Wrong Stuff. " "From the Hardcover edition."